Meet our permanent teaching staff
Meet our regular guest speakers
About the Academy of TMS Sciences and Certification
The Academy of TMS Sciences and Certification offers the accredited International Clinical TMS Certification Course, a 3-day academic course taught by internationally renowned experts in the field of non-invasive brain stimulation from Maastricht University and other prestigious academic and clinical institutes. Academy staff members include world renown experts in the field of brain stimulation who are at the forefront of scientific and clinical innovation in the field of TMS.
Certified and accredited by the European Accreditation Council (EACCME®), it is also one of the few TMS training courses to provide CME credits. Suitable for medical specialists, psychologists, researchers, nurses, lab assistants and technicians, the International Clinical TMS Certification Course provides the latest overview of effective TMS protocols and the most recent developments for optimizing clinical efficacy.
The International Clinical TMS Certification Course is among the most established and best evaluated in the world. Participants will receive a balanced mix of academic lectures and intensive hands-on sessions. Each participant is trained on the entirety of TMS application procedures. Training is available on various TMS systems from different manufacturers. Interactive Q&A sessions, and the small group size during the intensive hands-on trainings enable each participant to offer TMS as a therapy to their patients. Instruction also includes extensive lessons and discussion on safety procedures and regulations.
The program concludes with the awarding of our International Clinical TMS Certification.
TMS is one of the most dynamically developing fields in clinical brain research. This course offers an incredible service of providing you with the latest overview of effective TMS protocols and also the most recent cutting edge developments for optimizing clinical efficacy and increasing cost effectiveness. Each International Clinical TMS Certification Course is updated and improved based on recent developments, and we are proud that many participants return to our courses every other year to get the latest updates in the field and to re connect with the network of TMS practitioners. Read some testimonials of previous course participants here.
The International Clinical TMS Certification Course is offered at various attractive locations across the world and at different times throughout the year. You can now also follow the course entirely online, with the same live and interactive lectures and live one-on-one supervised hands-on training, without the need to travel to one of our course venues.
Importantly, our online course is always 100% live with direct person to person interaction and the same level of accredited clinical certification as provided by our on-site courses.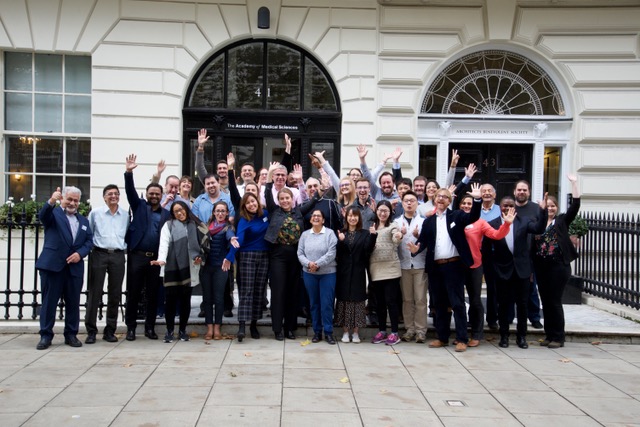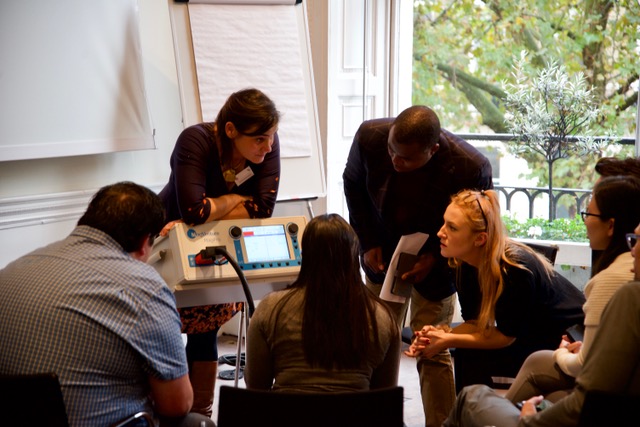 TMS stands for Transcranial Magnetic Stimulation. TMS hardware includes a generally non-portable stimulation device positioned on a table or trolley, with a port to which different TMS coils can be connected. The TMS coil is placed on the patient's head and enables transcranial (through the intact skull) painless brain stimulation with few to no side effects.


Repetitive TMS, or rTMS, involves the rhythmic delivery of magnetic pulses, often at either 10 Hertz or 1 Hertz, to respectively enhance or suppress the activity of the targeted region with longer lasting effects. These rTMS-triggered neuroplastic changes have shown to translate into clinically beneficial treatment outcomes for patients in psychiatry, neurology, and neurorehabilitation. It has been suggested that rTMS protocols may achieve these clinical treatment effects by engaging specific synaptic plasticity mechanisms, such as long-term potentiation (LTP) and long-term depression (LTD), as well as modulations in functional brain network connectivity.


By now, Transcranial Magnetic Stimulation has proven to be clinically effective in treating various neuropsychiatric disorders, including depression, OCD, and neuropathic pain. TMS treatments are FDA-approved, have received level-A recommendation (definitely effective) and are reimbursed by health insurances in a growing number of countries throughout the world.


We have seen patients with severe depression and a long journey of unsuccessful treatment trials reaching full remission after TMS treatment.


TMS has very few to no side effects. In fact, most of our patients don't experience any side effects at all, while benefitting from sustained clinical improvements.


Importantly, using TMS in the most effective and responsible way requires appropriate training and qualification. This is exactly where our team of internationally renowned TMS experts comes in, offering this fully certified and accredited International Clinical TMS Certification Course.